Equipment plays a vital role in the productivity and effectiveness in an industry. One of the most necessary tools is toggle clamp. When you start using one, you'll realize how beneficial it is. It will give you advantages that are worth the cost. Not only can it keep a workpiece in place, but it can also help control over your piece.
One of the benefits is availability. It is accessible whenever you are. Researching on the product will throw up a surprise when you find a range of options on the market. With a number of brands out there, it becomes stressful to opt which will be convenient for you.
However, the variety of solutions will just make you confused. Choosing the one that suits your needs is stressful. So, it's necessary to pay attention to the option that offers optimal safety and maximum efficiency. Yes, the process is more stringent than you imagine. But there is no pressure. Take your time. Don't be enticed to purchase cheap brands. Spend your money, effort, and time to a high-quality product.
Another thing that you'll realize when you shop is that toggle clamp is not a huge investment. There are companies that offer fair and reasonable prices. Just do your homework so that you can buy one that is packed with amazing features.
Chapter 1: What is the Toggle Clamp?
With the range of equipment to use in different industries, toggle clamp should not be overlooked. It makes the process convenient and productive that leads to a comfortable experience. But have you ever wondered what toggle clamp is?
A toggle clamp is one of the most important devices that a homeowner or contractor should stock. It firmly holds down a workpiece and keeps it stationary. This enables you to undertake an action without being worried by frequent movement of a piece of wood. It is equipped with a unique pivot and unique lever system, ensuring a maximum function and excellent performance. This enables the toggle clamp to hold down a piece according to your comfort. Not only that, it squeezes, pushes, and pulls wood in a way that reaches your requirement.
For those who are a bit hesitant to use the product, it's good to know its advantages. Take a close look at the following:
Excellent Efficiency:
Adding toggle clamp to cart is the most brilliant decision you can ever make. From the installation to the actual use, the tool is no doubt easy and fast. It is a cutting-edge material and recommended by experts because of its high operating reliability. The efficient setup enables you to work as accurate as possible.Not only that, there's more! It comes with a high clamping ability that reduces necessary fixtures for a particular application. Yes, it does not sound useful at first. During actual use, you'll notice how it significantly reduces the work time.
Convenient Adaptability:
Another thing that most people love about a toggle clamp is its adaptability. It can adapt to workpieces of different heights. This is true of the Cam-action mode that is employed on forgings and rough castings.There are also strap clamps and T-slot clamps that come with adjustable screws. These enable you to apply the clamping force you desire. They have a high exerting force and flexible adjustability that are useful when working with various material thicknesses.
Great Versatility:
Comfort You'll Love Several types of adjustable toggle clamps are conveniently available on the market. Of all options online and offline, the toggle clamp has varieties. Different aspects, including handle design, pressure ratings, and handle placement distinguish one brand from another. Most solutions are available in automatic and manual models. This results in an extensive range of toggle action.
Squeeze action clamps are equipped with a release lever, making the product much easier to open. Also, there are various finishes to choose from. Those with a goal to purchase a tool that enhances visual appeal, this is a perfect solution. But curb value alone is not enough to guarantee a meaningful investment. Luckily, squeeze action toggles are corrosion resistant. Manufacturers use a lot of modern materials such as zinc plate, chrome finish, nickel plate, and chrome finish.
The good news is that manufacturers can customize their products for their diverse clients. Whatever you're looking for, you can find it from a reputable company. Direct your attention to a trusted service provider for a hassle-free journey.
Optimal Safety: Experience without Injuries
Typically, the design of a toggle clamp ensures a high level of safety during work. It is known for an outstanding locking action that keeps the tool and workpiece in place. Whether you've experienced accidents or endured injuries with your toggle, consider other excellent alternatives. Select the one that helps prevent accidents because of slipping or losing grip.
Most toggle clamps of today allow you to exert a good level of force onto a workpiece. Because of this superb holding power, you are assured of your safety while working. When it comes to activating the power clamps, people use strap clamps, fasteners, and other essential tools. It's easy for some, but difficult for others. More often than not, it requires repeated actions, increasing muscle fatigue or strains.
Aside from that, it subjects the tool to increased wear and tear which is not a worth it investment. Luckily, there are toggles designed to enable a stress-free way of operating the material. Reputed for lever mechanism, the activation of power clamps only require a single pull. It's very convenient, and everything will be set in no time.
Effective Ergonomics:
A toggle clamp is packed with a handle that is specially designed to minimize strain and other body pains while working. This maximizes work efficiency and productivity, resulting in successful outputs.
But what makes it comfortable to use? Because of its contoured handle grips, it fits better into the hands. Whatever your size, you can manipulate the handle according to your comfort. Manufacturers can even modify the handle into a bent position, allowing you to keep your wrist straight. Just tell the company of your option ahead of time to have an investment that lasts over the years. In addition, it helps you avoid fatigue and other strain injuries.
Money-Saving: Obtain a Good Sum of Money for Update
Homeowners are deceived by cheap toggles. The belief to avoid costs and acquire huge savings won't happen. They will spend more than having a meaningful investment. A toggle clamp that is available at a low price leads to expensive replacement and repair. As a consumer, direct your attention to those that are available at a reasonable rate and be willing to spend more on other toggle clamps.
What's even more interesting about the equipment is its clamping and release. You can achieve it in a minute or two. It leads to extreme time saving per cycle. Of course, many people have a hectic schedule, and this product is something that everyone should not miss.
Easy to Incorporate: Avoid Other Expenses
Taking advantage of a toggle clamp does not require additional machining, slotting, and other unnecessary tasks. You can use it in any tooling without a hard time. In fact, it's stress-free to integrate into your workplace. Tired of using inefficient tools? Or overwhelmed with the repair costs? It's time to utilize toggles today.
Low Maintenance: Say Bye to All Hassles
There are factors that make a toggle clamp high-quality. One is the material used. Is it made from a chrome finish? Does it come with zinc plate? Or is it designed with stainless steel. The best material is the one that lasts and does not rust.
However, modern materials are not enough to say that a toggle clamp is excellent. People consider the comfort level of maintenance. Generally, toggles are virtually maintenance free. They only require a few drops of lubricating oil to keep them in an excellent condition.
In case of damage, call a professional right away. Instead of fixing the problem yourself, it's best to count on an exceptional company. Ask your friends and relatives for referrals. It's better than browsing the internet.
Extraordinarily Reliable and Simple to Use
A toggle clamp has been getting a buzz all over the internet. Users from different parts of the world have been amazed by the toggle. It's very reliable and easy to use. It's a tremendously efficient operating system, making it a cost-efficient option for all. Because of this, it helps people reduce work time. Plus, it brings efficiency in the workspace.
Chapter 2: How Does A Toggle Clamp Work?
Known to be the quick-action hold down tool, a toggle clamp is employed to keep a workpiece stationary. It may be fixed to a fixture or a bench. Or it may be handheld for holding different pieces of wood together.
A toggle clamp operates thru a system of pivots and levers. The clamp actuation moves against the workpiece. Then, it stretches or compresses the linkages. It locks Y moving the center pivot past the centerline of other pivots. It firmly holds the workpiece until you move the handle for a successful release.
Different Types of Toggle Clamps
As with other tools at home or workplace, a toggle clamp has various types. Keep reading to find more information.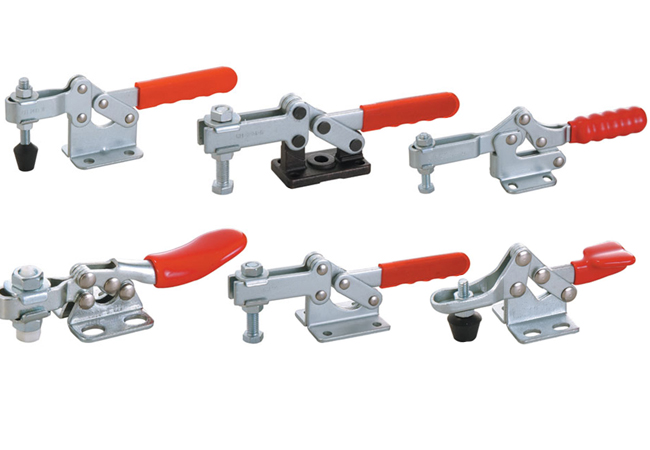 When the handle is in the horizontal position, this toggle clamp is in the locked position. As the handle moves towards the table, its securing arm locks into place. Commonly, this is used when there are height limitations to machinery. Plus, don't forget to mount it to a table.
The vertical toggle handle stands straight when locked. It is designed with various holding capacities. It can apply a considerable amount of pressure. Every time you pull the handle away from the tool, you can lift the securing bar and place an object under the bar. As the handle moves into vertical alignment, the pressure is applied. Not only is it safe for a worktable, but it also used to secure wood around machinery.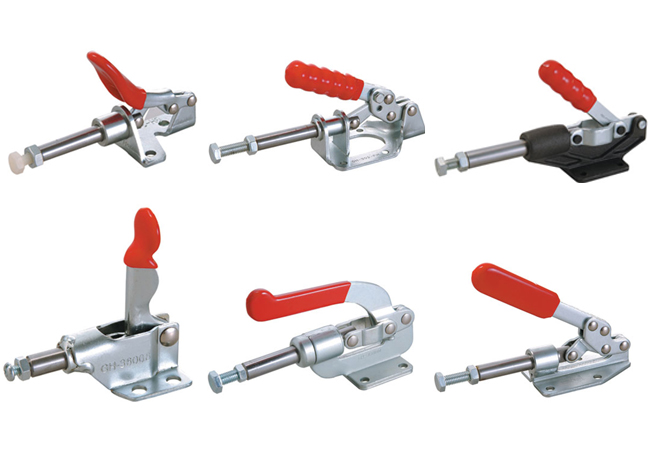 The handle of this clamp moves the securing bar in a straight line. Once the handle is engaged, the securing arm pushes into an object, locks, and holds it in place. Generally, you can lock the clamp in two positions. They are also suited for clamping different objects together, such as pieces of wood and molds.
The push-pull clamp has a superb plunger that travels in and out. As the name suggests, the clamp offers push and pull offers. It may lock in either the pull or push position. It may also be referred to as a straight line or plunger-style clamp.
This clamp works similar to the latch on fishing tackle boxes. Its handle is appropriately aligned with the opposing latch. Then, it is pulled back down into the locking position. This is used for closing objects such as mold closures and latching doors. Ask the manufacturer of your choice to help you have a brilliant decision in no time.
Categorized into two types such as U-hook and J-hook, pull action latching toggle clamp is ideal for sealing lids and molds. With its threated adjustments, it becomes adaptable to many applications. Options include stainless steel, carbon, and rubber material.
Squeeze-Action Toggle Clamp
Unlike the others, this toggle clamp is far different. It looks quite similar to pliers. It has two jaws that clamp onto various objects. As a portable clamp, it can be used in various situations. Not only can it hold two objects, but it can also put each in place.
For example, whether you have to clamp two boards together or are aware from your shop, it will be easy to achieve with a squeeze-action toggle clamp. Give it a try and see a huge difference after first use.
Also, it comes with 1 or 2 spindles that you can adjust. Its trigger release results in easy one-hand operation on a variety of models. Choices include stainless steel and carbon. Plus, there are jaw depths and openings. But this depends on the requirements of your application.
Hook Clamps
Looking for a toggle that is perfect for closing and holding doors, lids, and molds? There is no need to look further than hook toggle clamp. It pulls two parts together, making it an ideal option for different applications. It may also require a separately fixed catch.
Cam Toggle Clamp
With the number of toggles out there, this clamp is a similar to vertical toggle. The only difference is that the clamping force is generated by the action of a roller on a cam. This allows components of thickness to be clamped without the readjustment of the spindle.
Chapter 3: Working Principle of Toggle Clamp
Since you're already aware of the types, it's time to understand its working principle. As a user, enough understanding of the working principle of toggles is important. Not only can you avoid the hassles of using a clamp, but you can also increase comfort.
Basic Mechanics of Toggle Clamp
A toggle clamp is a linkage that can apply a powerful clamping force. The good news is that it requires little effort to lock or even unlock. With its ease of use, it's no wonder why many people make it a leading option. Typically, this is accomplished thru a geometric trick. This directs the force into the base. But it does not oppose the lock or unlock action. You can look at common styles that demonstrate the trick.
With this geometric trick, you will be fascinated by how a toggle performs from start to finish. This fantastic feature makes accomplishing a task easier than you imagine. While toggles have lots of designs, the operational principle is the same in most cases.
Pin Connections
It starts with the pin connection that avoids movement in different directions. But it allows rotation. Because of this, no action can be transmitted to the pin connection. An applied movement would cause the part to move.
When a link has a pin connection on each end, a fantastic thing may happen. The force at a single end that is not along the line results in a movement around the other end. Since both sides cannot support the movement, the entire system will be extremely out of equilibrium. Thus, two-pin link in equilibrium can have forces along the line between each connection.
The trick behind toggles is simple. It is not as complicated as you think. The structure is made from an array of two-pin links. When it comes to the clamped position, the links are properly aligned, and the clamping force is straight along the links. Then, you can lock the clamp for whatever your purposes.
The other trick is that the handle of the toggle clamp is well-arranged. This means that the clamping and unclamping motion is perpendicular to the clamping force. Since this force is directed along the links, locking or unlocking the toggle does not require any force.
Linkage Arrangement
Crank-Slider Mechanism
In this working principle, the clamping arm is held to slide back and forth. The handle of toggle clamps pivots around a point that is part of the base. It has a link that attaches the clamping arm to the handle.
In this crank-slider mechanism arrangement, the pins in the handle, the link, and the clamp arm align horizontally in the clamped position. The force from the clamp is directed along the links. On the contrary, the handle is pushed straight down in the clamped position.
Aside from that, you can modify this arrangement to lock in both open and closed position. You can accomplish this when the pins in the connecting link and handle are far from each other. Not only will the link line up along a horizontal line, but it can also resist the force from the clamp arm. Again, the release action will be perpendicular to the clamping force. But it's different. Rather than compression, the handle will be in tension. Moreover, other links will remain in compression.
Rotating Clamp
Another arrangement is the clamp arm that swings around a pivot point. It does not slide in a straight line. Circular motion around a point is tangential to a curved path. Apart from that, it is always perpendicular to the center of rotation.
When it comes to the clamped position, the link that connects the handle and clamp arm is held in line with the handle and fixed point. While it puts in line with the clamping force, the force is primarily directed thru the links to the point wherein the handle rotates.
Over Clamp
Crank-slider mechanism and rotating clamp are subject to potential issues such as manufacturing tolerances and vibration that can lead to improper alignment. Because of that, the force will release the clamp that can result in potential system failure.
The system is susceptible to these problems because the clamping force is high and the release force is low. Even a little percent of clamping force that goes toward the lock, release can happen quickly. Indeed, toggles are designed to over-clamp. This means that the locking position is beyond the industry standards.
Chapter 4: Applications of Toggle Clamp
Unlike other tools that homeowners and professionals use, a toggle clamp is a flexible option. Aside from having a ton of features such as low maintenance, huge savings, and ease of use, this equipment is highly versatile. This means that it has various applications and here are some:
Welding Fixtures
A toggle clamp is versatile. It can be utilized in many fields, and one of those is welding. In welding production, there is a fixture that uses clamps. With the right and effective toggle, it can make a welding project much easier than you think. It can help you construct a welding fixture, improve quality, and reduce production time.
As a piece of equipment, a welding jig has several parts. Not only does this form a weldment, but it also keeps a fixed dimensional relationship among various parts. A welding fixture needs to fulfill the requirements from being well-designed in light of durability, a great conductor of electricity, and enough tolerance to take care of deviations of steel castings.
Electronic Test Fixtures
An electronic test fixture is a tool for testing devices. In assessing electronics such as chips and circuit boards, this equipment can hold the device. But this depends on the quality of your option. Choose the solution that does not require extensive maintenance. Also, consider efficient working, easy to operate, and functional solutions on the market.
Injection Molding
A toggle clamp is also applied in injection molding. Its primary function is to open or close the mold. Toggle clamp uses mechanical linkages to produce higher forces. Aside from that, direct hydraulic clamp is utilized.
Conveyors
Known as mechanical devices, conveyors are used to moving packages or other items without much effort. More particularly, they are employed to move bulk materials such as aggregate and gravel. They have frames that support wheels, rollers, and belts. They consist of belt conveyors for moving belts, vertical conveyors for lifting materials, and overhead conveyors for hanging items during transportation. They also have a toggle clamp to improve the level of comfort and productivity.
Milling, Drilling, Bonding, and Sealing
Homeowners and contractors encounter a hard time when milling, drilling, bonding, and sealing. With several tools to opt, a toggle clamp should not be ignored. It makes the tasks simpler than you expect. You can put an end to the hassles of doing all drilling or sealing projects.
Machine Tool Positioners
Toggle clamps also serve as machine tool positioners. Right positioning of machines cannot be done manually. It requires the use of a toggle clamp to make the process accurate and error-free. Whether your existing toggles are not efficient and tested, rely on a company with a strong reputation in the business. Whatever your situation, a clamp from a reliable provider is an excellent choice.
Production Fixtures
These fixtures are a support or work-holding device in the production history. They are used to locate or even support the work, guaranteeing all parts to maintain interchangeability and conformity. Using these tools improves the economy of manufacturing. The application of toggle clamp in production fixtures make the equipment useful. It provides a boost in worker's performance and productivity.
Inspection and Gaging Fixtures
Controlling a process is crucial in manufacturing parts and assemblies. Inspection and gaging fixtures can play an essential role in effective manufacturing. These give machine operators the opportunity to ensure that every piece is produced as accurate as possible. But, without a toggle that works well, the system and process are greatly affected. So, eliminate inefficient clamp in your list and buy the one that's of high-quality.
Coping with Narrow Rails
Door rails in furniture are risky to pass by a coping bit. Without enough support, the rail may turn into a disaster. Not only will the cut be damaged, but your fingers are also at risk. But all of these safety issues can be avoided with the use of toggle clamp. Integrating toggles into your routine makes your workplace a damage-free environment. You can use a toggle clamp to construct a coping jig. All materials needed are a thick base piece and a spacer board. Top the piece with a board. This will serve as a sacrificial surface that allows the jig to slide and help you create perfect cuts.
Cutting Tenons with a Table Saw
Standing the workpiece on its end and feeding it freehand with the blade are unsafe. It's better to create a tenoning jig using two toggle clamps. You can build a fence to stand the workpieces without a hassle. Also, don't forget to mount the clamps to a spacer. You can now feed a block of wood perfectly thru the saw. You can adjust the rip fence for cheek cuts.
Locking Down Miter Joints
Closing miter joints with a bar-style clamp are not as safe as you think. It's brilliant to choose toggle clamp. Thanks to its well-designed and awesome features. You can use it with a square back-up block and base form. Utilize painter's tape to prevent the glue from sticking to the backup block and base.
Tension-free Tapering
Typically, the two-leg tenoning jigs have a significant flaw. There is no a comfortable and effective way to hold a workpiece against the angled leg of the jig. From employing a push stick to holding it with your hands is awkward and risky. With toggle clamp, you can experience convenience throughout the process. More particularly, you can keep your fingers away from danger. You can make a tapering jig from a piece of scrap without a burden.
All you have to do is align the layout line on your leg workpiece and screw spacer blocks to hold it at the right angle. Screw the toggles to the spacers. After clamping your workpiece in place, you can now set the jig against the rip fence of your saw. Then, adjust the fence to make sure that the jig edge is flush against the saw blade properly.
Feeding the jig past your blade will cut the tapered waist with error-free precision. You don't have to employ a push stick to hold the leg steadily. Aside from that, your fingers are away from the blade. Lastly, don't forget to unscrew and reposition your spacer locks to best fit your new taper angle.
Template-Routing Narrow Workpieces
Both a piloted bit and a template are helpful for you to turn out arched door rails and other shaped parts. However, routing curved and narrow workpieces can place your fingers close to the bit. So, why risk your hand? There's an excellent way to ensure your safety. Make your template piece wider than normal and add a spacer block for your toggles. Next, position the spacer to extend the workpiece for proper trimming. Fasten your toggle to the spacer to press the workpiece against your template easily.With a toggle clamp, you can say bye to double-sided tape, push pads or messy hot-melt glue. You can still hold the parts in alignment by locking the clamps. By that, everything is set for routing. While working at home or in the office, you can use a toggle clamps as hand-holds.
Other Applications
Toggle clamp is also used in a door closure, assembly, and woodworking jigs, and latches for container lids. Without its integration into these applications, related tasks will be difficult. While spending most of your time, the result is now what you expect in the first place. Thanks to toggles. Doing these jobs become fast.
Chapter 5: Which is better between Horizontal and Vertical Toggle Clamp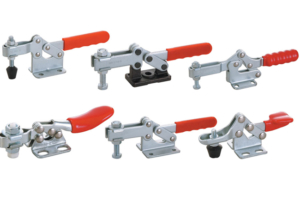 A toggle clamp is very flexible. It can be used in welding fixtures, electronic test fixtures, injection molding, conveyors, milling, bonding, drilling, sealing, machine tool positioners, gaging fixtures, and production fixtures.
Whatever your purpose in using toggles, there's nothing to worry about. You can find the one that suits your needs. It's always good to know the right type of toggle clamp for you. With the different forms, you will see the difference between horizontal and vertical clamp in this chapter.
Also named as horizontal hold down toggle clamp, this tool is quite similar to the vertical option. The only difference is the handle and bar. Both move in different directions. Its red hand grip with a rip-profile can make the user safer and more comfortable than you imagine.
When finding a toggle on the market, it's quite difficult because of many companies. The good news is that Rocheclamp was established to help everyone. We are always on the go to provide the best product and remain dedicated to offering 100% customer satisfaction or worth it investment.
Unlike the competition, our horizontal toggle clamp is manufactured with u-shaped or solid hold-down bars. There are also mounting options to pick. We also have different designs of horizontal toggle clamps. These include heavy duty, standard, customizable, and toggle lock styles. We use modern materials such as stainless steel, steel plated zinc, etc.
As a professional toggle clamp manufacturer, Rocheclamp is also a reputable supplier of accessories in China. We really take great pride in the quality of our service. Whether you're looking for a new or effective horizontal toggle, you have come to the right place. With our wide experiences and in-depth knowledge, we can exceed your expectations. When it comes to price, delivery, quality, and consistency, we got your back.
Vertical toggle clamp, on the other hand, is also an excellent option. Of course, all people want the most versatile clamp solution, and this type comes to your rescue. But what makes it the most flexible? At Rocheclamp, we manufacture our products with the finest and highest grade stainless steel. Our solutions feature a cushioned rib profile and red vinyl handgrip for maximum user comfort.
Our solution is equipped with pivot joints and stainless steel rivet fittings. Because of our rivet, maintaining accuracy and offering unrivaled durability have been associated with our reputation. Other amazing features are adjustable spindles, flanged washers, vertical arm, and handle opening angles.
So, what's your thought? Which is the right toggle clamp for you? Is it the horizontal toggle clamp? Or is it the vertical toggle clamp? Whatever the product of your choice, you rest assured to have a high-quality, effective, durable, and long-lasting investment throughout your journey.
Chapter 6: Practical Ways to Use Toggle Clamps
Unlike its two-jawed cousins, a toggle clamp does not usually get the same attention from many people. As with its counterparts, its applications and services are more specialized. Perhaps, you cannot even think to purchase some until the need arises. What other homeowners don't know is that they will struggle to find another excellent way to address a clamping issue. This is where a toggle becomes the perfect option.
A toggle clamp comes in two basic options. First, those that apply force down toward the base of the toggle clamp. Second, those that drive a plunger away from the base. Using a couple of pairs of every type can often help you work safely and prevent hand strain or muscle pain.
Below are a few effective tips in using a toggle clamp:
Attaching the Toggle Clamp of your Choice
Before you can use a clamp, you need to connect it to a workbench. The materials required are a pencil, four nuts, bolts, and a drill.
Mark Each Hole
With a pencil, mark the position on the surface where you want to attach your clamp. Take advantage of the bolt holes for a practical guide. Make sure to mark four guide holes. The two is for the side of your toggle.
Drill Holes
Right after marking the holes, drill each as accurately as possible to avoid potential issues in the future. Before using the drill, ensure that the holes have the right size to fit the bolts. It does not matter how much time you spend on drilling the holes. What matters the most is doing the process right the first time.
Attach the Toggle Clamp
After drilling the holes, place the clamp in position. Just align the bolt holes with the holes on your work surface to avoid expensive problems. Your job does not stop there. Next, insert the four bolds in each hole. Lastly, place nuts on the ends and tighten until the toggle is fixed to secure the bolts.
Using the Toggle Clamp, You Prefer
Once your toggle clamp is well-fastened to the bench, you can now use it for holding objects still. During work applications, you can experience productivity and effectiveness.
Position the Workpiece
As much as possible, ensure the level of your toggle is adequately pulled up. This leads to enough space between the clamping plate of your tool and the work surface. Within this space, remember to place the workpiece opposite the clamping plate.
Push Lever
For you to engage the clamping plate with your workpiece, push the lever downwards. After that, the clam will automatically lock. This means that the workpiece won't be released until you pull the lever up.
There you have it! Using the equipment is not as complicated as you ponder. It's simple to use. Although you are a beginner in incorporating a toggle into your routine, you can find it convenient. In case you encounter some trouble, please feel free to contact a reputable service provider.
Chapter 7: Things to Consider When Selecting a Toggle Clamp
Used as a woodworking device, a toggle clamp is perfect for securing the objects in place. Typically, a toggle comes with a handle, a lever system, and a securing bar. While the securing bar ensures that the objects won't move, the lever system applies enough pressure on the object to keep the workpiece steady for work.
Of course, experienced carpenters can tell you the kind of clamp they need for a specific project. However, as a neophyte, it may be tough for you to understand and know. Generally, finding an ideal clamp depends on your work. Before you shop online or offline, be aware of your task. Although a vertical clamp is a better choice than a horizontal toggle, the latter option is fantastic for low height locations.
Despite your experience to purchase the best solution, there's a way and here are the following to take into account:
Size and Shape of the Parts
A durable and long-lasting toggle clamp is not useful when it can't hold the size and shape of a piece of wood. Before you browse the internet for the best clamp, it is great to know the kind of workpiece you normally use. This will help you complete the project ahead of time.
Consistency of Part Thickness
Required Holding Capacity
A toggle clamp is a flexible option. It can hold any stuff with a high level of versatility. But this depends on the solution of your choice. Select the company that won't disappoint you in the first place. At Rocheclamp, we got you covered. We have a wide array of products that come to your rescue. Each has a different holding capacity that enables you to find the most suitable woodworking device.
Required Exerting Force
Well, homeowners want the highest-quality toggle clamps. Aside from considering where a brand is made of, it must exert enough force to clamp a workpiece. Ask your service provider for more information. A reputable company will guide you to come up with a brilliant decision at the end of the day.
Strength and Dexterity
Operator's Position Relative to the  Fixture
Frequency of Operation
Nothing is more disappointing than using a woodworking device that requires constant repair. Despite the times of using a toggle clamp, it can last within a long period of time. It is flexible and tailored to help you avoid unnecessary repair or replacement costs. It can withstand the test of time that gives you the chance to acquire huge savings over a long time.
Time Cycle of Operation
Whatever the time cycle of your operation, consider a rotary fixture or conveyor. Either of the tools, you can expect comfort from start to finish of your project.
Cycle Time and Sequence
With the thousands of solutions on the market, it's best to weigh air clamps in mind. Aside from being user-friendly, you can operate it in a sequence as fast as possible. Whether you're in a hurry or have many things to do, this type of clamp will be a source of happiness on your part. It will make you satisfied in the long run.
Unique and Special Environment
Your working environment significantly affects the durability and functional performance of a toggle clamp. Whatever the kind of space you have, there are modern materials you should not miss. Add those toggles made of stainless steel. Not only do they have strong corrosive properties, but also they have powerful non-magnetic applications.
Since you already knew the things to consider when looking for a toggle clamp, you can now go shopping! With this knowledge, you can enjoy your experience, and it's going to be challenging and fun.
Chapter 8: Different Materials Used in a Toggle Clamp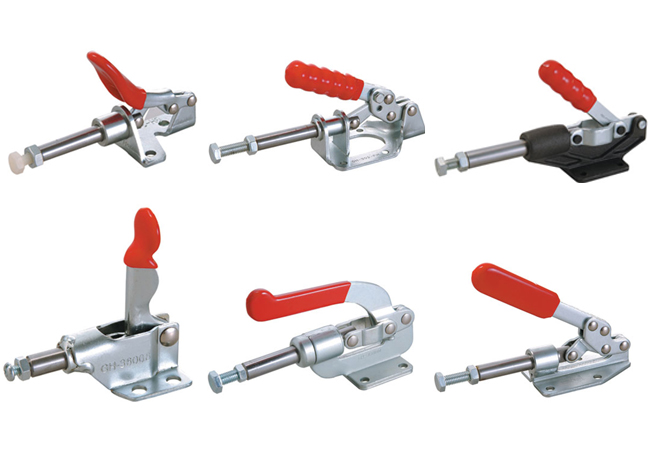 When selecting a toggle clamp, it does not stop in considering size and shape of the parts, consistency of part thickness, required holding capacity, exerting force, strength, and dexterity of the operator, frequency of operation, cycle time and sequence, or environment. It goes beyond that.
As a homeowner, be careful about where your option is made of. Toggle clamps can be made from a range of modern materials because of the individual type, manufacturer, and model. In this chapter, you will know some information about the materials used in making clamps.
Toggle Frame: Iron or Steel
Usually, the frame of a clamp is made from steel or iron. Experts say that the frame on some models can extend into the fixed jaw. The special iron that manufacturers use is the cast one. Unlike the other forms of this material, it contains silicon, carbon, and manganese.
Cast means that the iron has been heated until it turned into a liquid consistency. It is then poured into a mold and left for hours to become a strong solid again. This material is very durable. Even though some kinds of iron can be brittle, the tools are malleable enough to prevent cracking issues and other problems.
Since the frame of the clamp is expected to handle frequent use, manufacturers incorporate cast iron in toggle production. It is specially tailored that can help you utilize every day. Aside from that, it can withstand heavy workloads. No matter how complex your project, your cast iron frame can adjust.
On the other hand, steel in the frame is forged. This is a process that shapes the metal through compressive forces. As with the cast iron, the forged steel frame would also give you an advantage. From strength and quality, everything is possible. It can even hold onto a heavy or large workpiece.
Jaws: Steel and Wood
Steel has also been used in the jaws. Though some toggle clamp models have iron jaws, the most common material is steel. Like the frame, a steel jaw can provide strong properties. It can offer optimal strength even under extreme pressure.
However, there is no such thing as a perfect option. Steel jaws can cause potential damages to soft materials. The good news is that this problem can be avoided. Using jaw pads is a great way to prevent scratches and other expensive issues.
Another excellent alternative is to use a wooden hand screw clamp. This is the type of toggle that can help complete your woodworking projects without damaging your material. Although it is available at a high cost, there are some that offer a fair and reasonable rate. Just do your homework and never be in a hurry. It's brilliant to take your time.
Screw: Steel and Chrome Plate
Steel is a flexible material in the industry of toggle clamps. Not only is it used in the frame, but also it is incorporated into the screws. In fact, experts consider it as an ideal material to use. Since the screw is connected to the jaw, options that are of poor quality cannot withstand the pressure. Steel ones can. The extreme force from clamping a workpiece is not a big deal with this amazing material.
What is even more interesting about the present market is that choices are chrome plated. This increases the powerful strength of toggle clamp surface and prevents rusts. Tired of corrosion issues? Or overwhelmed on how to address them? Worry no more as chrome-plated steel screws are here to make you smile.
Handle: Chrome-Plated Steel, Plastic, and Wood
Like the frame and screws, the handle is made from chrome-plated steel. Because of that, it offers vibrant appeal, functional durability, and comfortable grip. For those who are looking for a rust-resistant option, chrome-plated steel handle is what you must take advantage.
Another material is plastic. Some clamps out there have handles made from plastic. For people who want an ergonomically shaped choice, this got your back. Users can enjoy a comfortable grip, too. These products have rubber patches to provide additional comfort and excellent grip throughout use.
However, it is not as durable as chrome-plated toggle clamp. The good news is that it can last for some years and it is a good investment as well.
Other handles are made from wood. One of its advantages is that it can work efficiently. It is also a solution that does not cost an arm or a leg because of its affordable rate. However, some may not offer the users with enough grip when tightening. Choose Rocheclamp to give you the peace of mind. All our products are of high-quality, and we strive hard to offer responsive services you deserve.
Strap: Sturdy Nylon
Everyone loves a durable strap in toggle clamps. When looking for a replacement, pick the product that's made of nylon. This component is exceptionally durable that is worth the cost. Aside from withstanding the test of time, it guarantees a functional performance.
Chapter 9: Various Parts of Toggle Clamp
Selecting a toggle clamp on the market is hard. There are factors to take into account. Following the previous chapters would make the process easy. After that, your job does not stop there. Your next task is to know what makes the use of toggle hassle-free. Aside from understanding the steps on how to employ a toggle, getting familiar with the parts would be of great help.
Clamping Plate
Every toggle clamp has a clamping plate. This effectively works in conjunction with a work surface to hold furniture in place. This means that the plate pushes against the workpiece to hold it still during clamping. Not only can a clamping plate swivel, but it can also tilt. These features can come in handy when clamping any tapered object.
The surface of the plate is fitted with a protective and durable pad. It is packed with strong metal with plastic or rubber pad. This protects woods from indentations and other expensive damages in the future.
Screw
Another part of a toggle clamp is a screw. It connects the plate to the body. You can move or reposition the screw along the bar to place it at the maximum position. You can also adjust it vertically to modify the amount of clamping pressure.
Lever
This controls the movement of the clamping plate. This is because of the pivot point that connects both parts together. By pushing it against furniture or locking it in place, the lever can engage the clamping plate.
Pivot Point
Near the center of the clamp, a pivot point is a pin positioned. It works well as a connection between the bar and the lever. Plus, it effectively holds the clamping plate.
Pressure Adjuster
Toggles have a feature that automatically adjusts the clamp's pressure. This allows the clamping of various sizes of the workpiece to adjust the pressure themselves. This pressure that places on furniture is consistent, whether it's holding a large block of wood or a thin piece of paper. Whenever you wish to adjust the pressure, just tighten or loosen the screw.
Bot Holes
Last important part of a toggle clamp is its bolt holes. You can place them to fix the clamping plate any time of the day.
A toggle clamp has many parts, including bot holes, pressure adjuster, pivot point, lever, screw, and the clamping plate. And memorizing each is difficult. You don't need to do that. A little understanding about them is enough for you to become an effective and responsible user.
Chapter 10: What to Look for When Choosing a Toggle Clamp Supplier
When finding a toggle clamp supplier, it's often tempting to go with whoever provides the lowest price. Despite the knowledge of getting what you pay for, you still choose the one that offers the lowest rate. It may be worth paying a little more on a higher quality product from a trustworthy service provider.
Of course, there is a need to balance your priorities. That's why it is imperative to have an effective strategy for choosing a toggle clamp supplier who can provide the product of your dreams. Below are a few things to weigh in mind when picking the right company.
Work with a Clamp Supplier that Provides Relevant Products
Instead of aimlessly paying any price, consider what you need and the goals you want to achieve since timeliness is necessary for all people. It will be a great idea to look for a toggle clamp supplier that offers the products you expect. Also, direct your attention to providers that have timely and professional service.
Consider Reliability
Working with an unreliable company is a big loss of money. At the end of the day, you will receive inefficient service and poor quality products. With a reputable supplier of toggle clamp, you rest assured of excellent features. At Rocheclamp, we are surrounded by a team of skilled professionals. We take pride in our cutting-edge materials, too. Over the years of service in the industry, reliability has been associated with our name.
Outstanding Communication is Key
What makes a toggle clamp supplier great? At Rochehandle, we communicate with our clients as effectively as possible. We consider proper communication as the lifeblood of a successful and smooth experience. We remain upfront about timing and pricing, ensuring a memorable journey you deserve. Whether you have something to ask or verify, you can give us a call any time of the day. Our customer support is always on the go to assist you. We can accommodate all your inquiries and other concerns in a professional manner.
High-Quality Feature is Salient
When determining the budget, you can spend on toggle clamp, consider the kind of quality you want. Then, look for a supplier that matches your needs and offers high-quality options. An inconsistent and ineffective provider is not what you deserve. At Rocheclamp, we can go beyond your standards. We have the best practices that are worth your costs.
Ask a Friend or a Relative for Referrals
Toggle clamps have a lot of benefits. They make woodworking project error-free and fast. Skilled workers can also be productive and effective. Despite the complexity of the project, it will be more convenient than you anticipate. You will end up achieving the result of your goals.
Because of that, the industry has a high demand, increasing the number of toggle clamp suppliers. It's very confusing which company to opt. One of the things to do is to ask your friends, family relatives, and colleagues for referrals.
For further details, please feel free to contact Rocheclamp. We have the unmatched commitment to make you happy! Our people are the best, and our products are one-of-a-kind!
Chapter 11: Proper Maintenance and Safekeeping
Commonly used in the wood shop, toggle clamps have spindles that tighten each jaw against the stock. The movable parts and threads of the toggles should be properly lubricated with a lightweight oil. This makes them work freely.
A toggle clamp has a spring in the jaw to hold it in place after a few adjustments. Sometimes, this added feature loses its tension that requires replacement. In this case, it is essential to remove the jaw and install a new spring. Take out the rivet at the end of each bar. Once the spring and jaw have been inserted or mounted on the bar, you can then replace the rivet.
To remove the glue that adheres to the surface, clean the toggles as frequently as possible. Adhesives may make indentations on the stock surface. Apply a coat of linseed oil to the clamp after maintenance. This prevents the penetration of adhesives into the clamps. Don't use a lubricating oil because it will just soak into the stock that causes discoloration.
It is also essential to replace a jaw on a screw. You can disassemble the hand screw by unscrewing them. In assembling the tool, be cautious to do the process right.
Other Efficient Tips
Removing Adhesive Solutions from Toggle Clamps
Glue adheres on toggle clamps, and this has been a dilemma for many users across the globe. Even though most manufacturers claim that their products are glue-resistant, it's not always the case. Adhesives remain on the clamp and other woodworking devices.
With the advancement of technology, this is no longer a big problem. In fact, it becomes easy to address. The first option is to rely on a shop. Companies near you may wax your clamp with the use of strong and effective solution. Not only does it repel the glue, but it also transforms your toggles into a different clamp.
Many people believe that letting a professional handle the job is a waste of money. They put an end to the dilemma themselves. Yes, it's money-saving because you can avoid service fees. But do you have a complete set of tools? Or do you know how to use one? Of course, some are aware, and others don't know.
Without enough background and innovative equipment, you will end up making the problem worse. Perhaps, you will use a putty knife and other unideal tools. Possibly, you will employ an ineffective solution. With the sum of money you spend, you can use that to hire a talented service provider.
The difference between doing the project yourself and hiring specialists is that the latter drives successful results. They can take care of your problem and bring back the function of your woodworking tool in real time.
Aside from paste wax, they use a steel brush to get rid of the glue and other dirt. Unlike the traditional brush, the ones from trusted companies are different. While maintaining the curb appeal of your toggle, they can protect your investment over a long run.
Individuals who are in a rush, use wire wheels. Well, you can do the same thing. But be careful when knocking the glue out of your tools. Take your time to avoid expensive problems in the future. For those who have a hectic schedule, going to a responsive shop is a good idea.
Prevention is Better than Hiring a Specialist
For you to avoid maintenance costs, the best practice with the toggle clamp is prevention. How are you going to do that? All you have to do is cover them with a sheet of craft paper, newspaper, brown paper, or wax paper. You can give sheets of plastic a try, too.
But no matter how cautious you are, you will notice the adhesives on your woodworking equipment. Remove it right away and don't leave it on the tool for hours. The longer it stays on your tool, the worse it can be to get rid.
Getting Rid of the Rust in Toggle Clamps
Of course, homeowners will choose toggles that are made of steel because of their high corrosion resistance. But it does not mean your investment may not rust. Over a long time and improper maintenance can lead to corrosion.
Sometimes, people consider the idea of replacing their clamps. However, it's not necessary at all. You can remove the rust and bring back the curb value of your toggles.
How are you going to do that? There are lots of effective methods. First is the grinding, sanding, or scouring off the corrosion. Whether you don't want to employ chemicals or remove the paint with the corrosion, take advantage of a power tool, including a grinder, sander, or drill. All these tools can remove rust from your woodworking equipment.
With the types of grinder out there, use the one that has a stripping disk for fast removal of heavy rust. Just keep the tool moving so that you can't gauge your clamps. For smaller jobs, a traditional sander is an excellent solution. Use an oscillating tool with a sanding pad attachment.
Powerful and Effective Chemicals
Grinder or sander is effective to make your toggle clamp new. But it's quite time-consuming and exhausting. Use rust remover chemicals. These contain hydrochloric or phosphoric acid to dissolve the buildup of rust. They are strong solutions that give off intense fumes. Don't forget to wear rubber gloves, goggles, and other protective gears. Find them in any home center near you. Instead of purchasing a new paintbrush, rags, putty knife, or a waste tub, just look around the kitchen or stock room. You can find all these materials.
However, these chemicals may put your health at risk. You should try acid-free soaking and non-toxic solutions. Browse the internet for more choices. Pick the brands from a trustworthy company.
Utilize Rust Converter and Achieve an Aesthetic Appeal
One of the easiest methods to handle the rust in your clamps is to use a rust converter. It kills the corrosion and prevents its spread. This is available at any auto parts store or home center. Remove the flaking paint or rusty dust with a brush. Then, spray the solution on your current toggle clamp.
Chapter 12: Frequently Asked Questions About Toggle Clamps
What does Clamping Pressure mean?
The holding power of a toggle clamp is a crucial factor to take into account before starting an application.
You have to place the right amount of pressure on a piece of wood when clamping. Never exceed the recommended pressure because it may tremendously damage your workpiece. Plus, too little weight is not also ideal.
How to measure the pressure?
The jaws of the toggle clamps are the ones that will apply the pressure. Enough amount of clamping pressure plays an important role for different applications like gluing. Use the toggle clamp to hold two objects while the solution sets. Make sure to hold the parts gently and firmly. It does not require excessive force. Too much pressure will lead to an uneven glue line. This means that the glue could either run out or may not hold each part together within a long period of time.
When it comes to gluing, the general guidelines on the amount of needed pressure during clamping are measured in pounds each square inch. For hardwoods, it is between 175 and 250 PSI. For softwoods, it is between 100 and 150 PSI.
The amount of pressure required depends on the shape of pieces of wood. When they fit parallel together, you need to apply less pressure. When two parts are disjointed, you should apply more pressure.
What is the difference between force and pressure?
Force and pressure are not the same things. Pressure is the exertion of force by an object on the surface area of another. In simple words, if a toggle clamp comes with small jaws, it can apply more force automatically when closed. This will lead to a large amount of pressure that channels on a surface area of a piece of wood. However, this can cause potential damage.
The good thing is that you can avoid marring the surface of the furniture. You can use jaw pads with a wide surface area to distribute enough force over a great area. It can also decrease the pressure that every workpiece receives.
How much pressure is a toggle clamp capable of?
Generally, woodworking devices have an excellent clamping force because of the screw mechanism. The majority of clamps have their maximum clamping force. You can see it on the packaging itself, which is specifically measured in newtons.
Using the information with the size of the toggle clamp can help you work out the degree of pressure that the tool will exert on a piece of wood. For each clamping application, there is no general and particular rule.
But experts suggest that the larger the wood, the greater the pressure required. Whether a clamp is not strong or large to apply enough pressure, it is a must to use a variety of tools. This gives a boost in the pressure.
What is the capacity of a toggle clamp?
When looking for a toggle clamp, it's a brilliant idea to consider its capacity. This gives you the idea about the right size of workpiece it can hold within the jaws. You can determine the capacity by considering jaw opening and throat depth into account.
What is jaw opening?
The jaw opening of a toggle clamp is how far the jaws mouth can open. This indicates its maximum capacity.
What is throat depth?
This is about how deep the jaws of a toggle clap are. You can measure it by the distance from the jaw top edge to the frame side. As with the jaw opening, it shows how far into the clamp throat that a piece of wood can fit.
Is it right to check the specifications?
Of course, yes. That way, you can ascertain the toggle clamp capacity. The product specifications from the manufacturer consist of enough information about the throat depth and jaw opening. You can also ask the service provider of your option for the accurate guide.
What are protective, jaw pads?
Commonly, clamp jaws are made from steel, iron, and other metals. Because of these modern materials, the tools can indent the surface of a piece of wood. But worry no more! There are jaw pads to prevent this problem from happening.
Known as plastic covers, you can place jaw pads over the jaws. This is the best solution to prevent the toggle clamp from damaging your workpiece surface. Purchase pads in sets to use them on different clamps at the same time.
Are there excellent alternatives to toggle clamps?
Of course, there are alternatives to use. One of those is a vice. As a mechanical apparatus, a vice is used to clamp an object safely. This helps you carry out your work like how a toggle clamp performs.
As with toggle clamps, a vice has different types such as metalworking, machine, hand-held, and woodworking vices. The differences between a vice and toggle clamps are that the former is a heavier-duty device. Yes, some clamps may be necessary to hold furniture. Nevertheless, a large vice can provide the same and comfortable grip.
A toggle clamp, on the other hand, is more versatile because vice is bolted to a work surface. Another is that the tool is portable enough. You can position it wherever you wish.
Locking Pliers
Also called as vice grips or mole grips, locking pliers are specially designed for holding on to a particular object while completing your work applications.
Even though they are quite similar to clamps, locking pliers may not be as flexible as them. They are smaller in size and may not withstand much pressure. In addition, they also have a smaller jaw opening than toggle clamps. This means that they cannot grip on to a wider piece of wood. These tools are useful for loosening and tightening objects, including bolts and types of screw.
What does Air Operated Action Mean?
Air operated clamps have a functional performance like their counterparts. However, they are activated by a pneumatic cylinder. They don't require manual force. They are available in push/pull and hold-down styles.
What does Hold-Down Action Mean?
As the most common clamp action, hold-down action clamps apply force in a downward direction. It is perpendicular to the tools that are mounting the surface. They come in vertical and horizontal styles.
What is Linear Action?
Unlike the other actions, this one means that the clamps apply a force parallel to the clamps mounting surface. Typically, they are utilized to draw all elements together and push a piece of wood against a solid stop. Linear action clamps also come in hook, latch, threaded rod, push, drawback, and other styles.
What is Squeeze Action?
A squeeze action means that the toggle clamps apply a force on different parts placed between the upper and lower jaws. You can use them to pinch pieces of wood together and secure them to a surface. They come in c-clamp, plier, and other styles
What is clamping force?
This force is not as complex as you think. In fact, it is easy to understand. It is the amount of force applied to a piece of wood. This only happens when you close and lock the toggle. Usually the maximum clamping force is around 80% of the total holding force of clamps.
What does applied force mean?
This is the amount of force that's applied to the handle of the toggle, resulting in enough clamping force. Its exact amount is hard to calculate. There are many involved variables. These include the clamp type, material, clamp position, and spindle position. All of these factors have a significant effect on the applied force.
How much is toggle clamp?
Those who want to purchase a clamp that does not break a bank, toggles are an outstanding option. They are available at an affordable rate that won't give a burden to different users out there. But don't be tempted to buy the cheapest brands online or offline. Be more willing to purchase the ones that have a reasonable and fair rate.
With the growing number of companies in the industry, finding the best is hard. But you don't have to experience all the hassles. At Rocheclamp, we are reputed for competitive pricing. All our toggles are neither costly nor cheap. Each is affordable, and we never compromise high-quality and other amazing features.
Do toggle clamps have added features?
Definitely yes. There are additional features you should take advantage. From toggle clamp with lock, toggle clamp with spring, to toggle clamp with the sensor, there are other choices to pick. And at Rocheclamp, all of these things are available.  We are a one-stop company that you can count on and trust over the years.
Conclusion
Toggle clamps are necessary for any woodworking project. Despite the complexity of your task at home or in the office, it can help you say bye to the hassles. Your experience will be different. It will be full of convenience, effectiveness, and productivity.
When choosing the perfect clamps for you, there are factors to weigh in mind. One of those is high-quality. For you to achieve your goals in your project, let Rocheclamp handle the job for you. We have a dedicated team, innovative equipment, and competitive pricing! For more information, feel free to contact us!