Latch type toggle clamps also called latch hook toggle clamp or pull-action latch clamps. These latch type clamps operate on a horizontal plane, get pull two sides together, or at 90 degrees. These toggle clamp latch have the advantage of having a low profile and make it most suitable for applications having a height restriction.
Their hook action latch clamp mechanism can make clamp ideally suited for applications on mold cabinet lids, quick release covers, hatches, doors.
These latch type toggle clamps are manufactured with holding capacities up to 33,4kN.
There are three basic types of clamp latch: Fixed latch type toggle clamps, U-hook type toggle clamps, J-hook type toggle clamps.
These latch type toggle clamps are also available in various material:steel plated zinc or stainless steel.
Rocheclamp is a professional toggle clamps and accessories supplier in China. We are proud of our toggle clamp's quality and service, if you are looking for pull latch toggle clamps, you've come to the right place, rocheclamp will exceed your expectations in price, quality, and delivery.
Please Contact Us And Tell Us How We Can Best Serve You!
Helpful Information About Latch Type Toggle Clamp
Toggle clamps are one of the most popular devices you should stock.
Yes, it's true!
Because:
They firmly hold down any piece of work and keeping it stationary.
This tool allows you to undertake any action without being disturbed by frequent movements of the project you are working on.
What's more:
Toggle clamps use a lever and pivot system to function.
This system enables the toggle clamp to hold down, squeeze, push, and pull according to the chosen specifications.
Before buying a toggle clamp:
It is important to choose the type that best fits your needs.
A latch type toggle clamp is a type of toggle clamp that offers decisive advantages.
Latch clamps are also available with and without a locking mechanism.
There are also many options you can choose from for this type of toggle clamp.
The good news!
This eBook will provide you with helpful information about the tool.
From the function to the types of latch type toggle clamp, you will end up getting this very useful tool.
Chapter 1: What Is A Latch Type Toggle Clamp?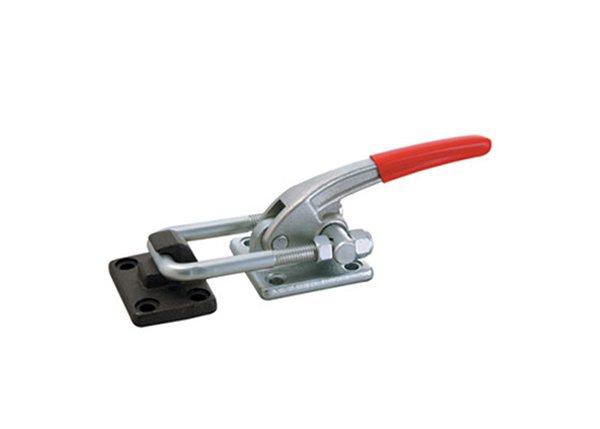 Latch type toggle clamp is commonly used for woodworking and carpentry projects.
Generally, this type of toggle clamp is designed to secure and fasten objects in place.
You see:
This toggle clamp is made up of a handle, a lever system, and a securing bar.
It applies the pressure and holds the object in place.
Once the handle is set, the securing arm of the tool locks in place so that pair of objects won't separate or move.
Choosing this type of toggle clamp will provide you with a much easier and faster way of doing every work.
Also, latch type toggle clamp is made for heavier duty.
This type of toggle clamps is available in three types:
the vertical;
the horizontal and;
the hook action.
The latch action of this clamp allows the two faces to be fastened together.
They will be on the same plane at 90 degrees.
This tool is suitable for any specific applications having height restrictions.
The latch action of this clamp makes this perfectly suited for application on doors, hatches, box lids, etc.
Features of latch type toggle clamp include heavy-duty range and red vinyl hand grip.
It improves the user's comfort, and it provides a long service life.
No problem!
Rocheclamp provides latch type toggle clamp built to suit a wide variety of industrial applications.
Chapter 2: Different Types Of Latch Toggle Clamp
As mentioned above, there are three types of this toggle clamp: the horizontal, vertical and the hook action.
But that's not just part of the story:
Each of the types has its advantages in providing ease of use for the user.
They have the advantages of having a low profile application.
And that makes them ideal for more applications with height restrictions.
Take a closer look at the different types of latch toggle clamp:
This type of latch toggle clamp is known for its simplicity and versatility.
This clamp has the highest clamping force.
In my experience:
Vertical is equipped with a cushioned grip profile that improves the comfort of the users.
The pivot joints of this clamp are manufactured with a formed end on the arm.
It captivates the spindle and prevents it from becoming loose during heavy operation.
A horizontal latch type toggle clamp is a model for applications requiring heavy-duty clamping.
This model is fabricated from solid steel.
With its pin house with carbon steel, this clamp is extra rigid.
As it turns out:
This type of toggle clamp has an added advantage with its trigger lock.
It enables the clamp to remain in a locked position even in some conditions with high vibrations.
A pull action latch toggle clamp is a perfect clamp used for light clamping where less area is available.
When you opt for this type of toggle clamp, you need to take note that there is a variety of this latch toggle clamp.
You can use this toggle clamp in mounting plate or panel on a workpiece side.
Think about it:
Here at Rocheclamp, all of these toggle clamps are always available.
With over ten years, Rocheclamp has served thousands of clients around the globe.
We will help you find the exact toggle clamp that you need or modify one that will meet your exact specifications.
Chapter 3: Latch Type Toggle Clamp: Benefits
Latch type toggle clamp is known for its superior mechanism.
It also offers you a huge advantage over the piece of work you are doing.
Yes, you read that right:
When you start using them, you will soon realize how helpful they are.
There are also conveniences of using this tool.
It keeps and holds a workpiece in place.
It is a major advantage because it helps you have control over the piece that you are working.
Here are the benefits of Latch Type Toggle Clamp:
Are you looking for latch type toggle clamp?
There's a wide variety of tools available in the market.
With a huge collection available for you, it will be easier to choose the one that offers you with convenience.
Search for the market will also help you discover that this tool is not expensive.
Reliable and Simple to Use
Latch toggle clamp is an easy to use tool which you can rely on.
What does this mean to you?
It offers you a highly efficient operating system making it cost-efficient.
It will help you reduce the length of time working. This small tool provides you with the utmost efficiency.
It is a must-have tool which is worth as an investment.
A latch type toggle clamp is also known for its flexibility.
Well, it's true:
It is highly adjustable and can be used for any type of work.
You can use them in different work areas and adjust it to your desired heights.
You can always rely on this latch type toggle clamp heavy duty.
A latch type toggle clamp heavy duty is exceptionally better when compared to other types of clamps.
Their applications are exclusive and more and more users are turning to this tool.
When you buy this clamp, you will realize that it is a smart choice that you made.
It will help you save time and provide safety.
They are not a huge investment to make.
In fact, you might be surprised with their price when you opt to partner with a trusted manufacturer.
It gets better:
Rocheclamp offers you an affordable cost for this tool.
Here at Rocheclamp, we are proud to say that our toggle clamps will never fail you.
While enjoying the excellent functionality of this tool, you can still enjoy saving a lot of money with this toggle clamp.
Here at Rocheclamp, you can find the perfect and trendiest latch type toggle clamp to skyrocket your business.
Chapter 4: Latch Type Toggle Clamp Maintenance And Care
Now you know the different types and benefits of latch toggle clamps.
To make a point:
It would be better to determine as well as the maintenance tips and care.
Whether you are looking for a horizontal, vertical or a stainless steel latch type toggle clamp, these tips will help you take care of your toggle clamps.
Don't know how to clean and care for your latch toggle clamp?
Follow these tips:
Cleaning
It is good to keep your toggle clamp clean all the time.
It's to make sure that your toggle clamp is efficiently working.
Any dirt or moist can damage the ability of this tool to work on the workpiece during clamping.
But wait, there's more!
After every use, it is recommended to wipe them with a dry cloth to get rid of all the debris and dust build-up.
Also, regularly oil the parts of your clamp to prevent them from rusting.
Storages
Store your latch toggle clamp in a dry and safe place such as work shed or shelf in your garage.
Keep them out of children's reach for they might cause harm to them.
So, if you have kids at home, don't let them touch your toggle clamps.
Proper use of Toggle Clamps
The life of your toggle clamp depends on how you use it.
We have listed here the tips on how to properly use a latch toggle clamp:
Before using a toggle clamp, you need to secure to attach it to a workbench.
To perform this step, you need a drill, a pencil, bolts, and nuts.
Check this out:
With the use of the pencil, mark the position on the surface where you want to attach the clamp.
You should also mark all four holes as your guide, two for each of the side of the clamp.
Once you are done marking the holes, use the drill to make holes for your work surface.
Double-check if the holes will fit the bolts.
Then, place the toggle clamp on its position and tighten until the clamp is properly fixed.
Once the clamp is fastened on top of your bench, it will hold the objects during the work application.
On the position of the workpiece, make sure that the lever of your clamp is pulled up.
You should also ensure that there are spaces between the work surface and the clamping plate.
Place your workpiece within the spaces which makes it opposite the clamping plate.
What's more:
Push the lever downwards to insert the clamping plate with your workpiece and properly clamp them in place.
When one of the levels of the tool is pushed downwards, the clamp will automatically lock.
It means that your workpiece will never be released until the lever is dragged up.
It is very easy to use a toggle clamp.
When you finally know the right way of using them, your workpiece will be secured.
This means that any application can be accomplished with ease.
Chapter 5: Latch Type Toggle Clamp – Frequently Asked Questions
As you search for the right latch toggle clamp, you will encounter questions from avid customers.
Treat yourself:
These questions will serve as your guide in buying the right tool for your home and business.
Check out these frequently asked questions:
What is a Toggle Clamp?
A toggle clamp is a fast-acting mechanism with three basic elements: Linkage, Action and Handle.
What is a Clamping Force?
It is the amount of force applied to your workpiece by locking and closing the clamp.
What is Applied Force?
It is the amount of force that must be applied to the clamp to achieve its maximum clamping force.
What does "Clamp Action" mean?
The term refers to the basic function of the clamp.
It is also the direction to which the clamp is both holding force and clamping.
Is buying a toggle clamp online safe?
Shopping with your credit card from a professional company is guaranteed to be secure and safe.
A trusted supplier of toggle clamp provides an extensive process in processing thousands of internet transactions safely and securely.
What are my payment options?
Most of the online stores are accepting Visa, PayPal, or MasterCard.
Depending on your chosen supplier, there will always be a payment option that is suitable for you.
How long will it take for my orders to be shipped?
Most suppliers ship all the orders within 48 hours upon the payment of the item.
Shipping fee also varies from suppliers and the location.
What is a Return Policy?
A return policy is an agreed period of returning a damaged or defective item.
Suppliers provide this policy to ensure quality items are delivered to their clients.
Most of the suppliers offer an 80 to 90 days return policy.
How can I check the status of my orders?
If you choose to partner with a well-known supplier like Roche, you can easily track your order with less hassle.
Once the orders are shipped, you will receive an email about the tracking information.
Where can I buy a latch type toggle clamp?
You can buy a quality latch type toggle clamp from a reputable supplier or toggle clamps, like Rocheclamp.
Rocheclamp is a well-known supplier of latch type toggle clamp.
The company also manufactured 500+ models of toggle clamps.
At Rocheclamp, you can find sturdy toggle clamps at a very friendly price.
Chapter 6: Latch Type Toggle Clamp Supplier
You now identified the proper maintenance care and tips for your latch type toggle clamp.
A latch type toggle clamp is a useful tool for your business.
It is therefore important to buy these tools from a trusted toggle clamp supplier.
Now that you know all the information you need about this tool, it's about time to search and purchase it now.
But we don't stop there:
It's about time to buy the tool online.
But, with the online world crowded with toggle clamp suppliers, how can you find the best one?
The good news!
Rocheclamp is here for you! We have a wide array of affordable and durable toggle clamps.
For over ten years of excellent customer service, we continue to grow as your premier toggle clamps supplier.
It is our goal of providing the highest quality of toggle clamps in different applications.
No matter what you need, a horizontal toggle clamp, latch type toggle clamps, or vertical toggle clamp, we have it all here.
These are just a few:
With our 500+ sets toggle clamps, you can get the right toggle clamp to support your business.
We have manufactured more than 500 models of toggle clamps.
Our clients are glad about the toggle clamps they have ordered from us.
Rocheclamp strives to satisfy and deliver the highest quality of products.
The company aims to exceed your expectations in terms of delivery, price, and quality.
With our years of experience and expertise, we are known for our competitive pricing and excellent customer support.
We also pride ourselves on delivering quality and quick response time.
With just a single call, you can expect an utmost and courteous approach from us.
It gets better!
After you have chosen your desired toggle clamp from our online store, we can already ship the latch type toggle clamp of your dream.
Above all, most of our satisfied clients love is our integration of the latest technology.
With the use of these innovative tools, we will provide you with the best quality items.
You too can be our happy clients today!
Choose from our wide selections of toggle clamps now!
Conclusion
You see:
As you read this book, you don't need to look further.
Rocheclamp is the right and most trusted supplier of latch type toggle clamp.
Make sure to consider buying your toggle clamps from a reputable manufacturer, like Roche.
Best of luck!
More Information about Latch Type Toggle Clamp:
Contact Us Get Free Catalog